The beatles signed the quarrymen Paul mccartney John lennon Colin hanton photo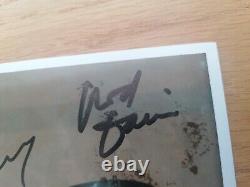 Don't miss out on this once it's gone it's gone. Hand signed by Bill Smith founding member of the quarrymen and John's childhood friend.
Also signed by the quarrymen len garry, Rod davis and Colin hanton. Slight smudge on Rod davis autograph. I obtain all my autographs in person at arenas, theatres, stage doors ect. And I will always try to provide photo proof.
Please feel free to message me with any questions or you would like to know were and when I got the item signed.

---