Pristine Beatles Swan S-4152-s White Label Promo Sie Liebt Dich With Rare Mailer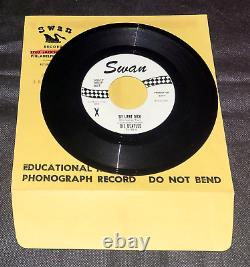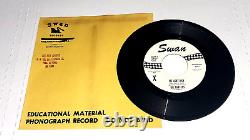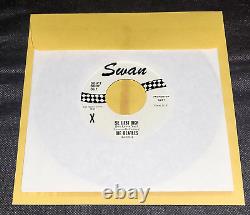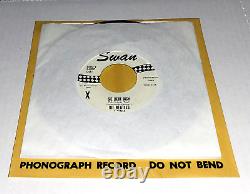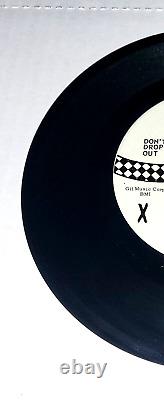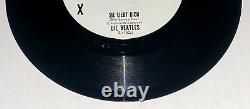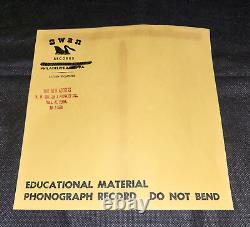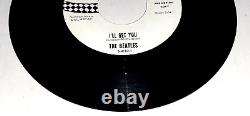 PRISTINE BEATLES SWAN S-4152-S WHITE LABEL DJ PROMO' SIE LIEBT DICH' 1964 WITH FACTORY PRINTED' X' AND ULTRA RARE SWAN RECORD MAILER! The ONLY insanely rare SWAN White Promo X for sale on the planet.. Here is your once in a lifetime opportunity to own a piece of Beatles history few can say they have in their collection, and none as Gem Mint Pristine Uncirculated, as this stunning treasure.
Swan White Label DJ Promotional Copies, in German, like this are considered the Holy Grail by collectors, across the globe. No one has ever seen one this pristine ever! The Swan record mailer has just recently been unearthed. Both have been procured from the Swan Luminary Walter Gates estate.
This amazing treasure was found stored in a plain white sleeve inside the record mailer pictured!! These don't exist for sale anywhere in the world! This insanely rare SWAN MONO DJ PROMO'X' in German has never had a needle on has it or ever been on a turntable. It is the most pristine Swan'X' Promo that has ever existed. It has been untouched for almost 60 years. The German version of'She Loves You' is much more rare and impossible to find in this unprecedented condition! The labels are absolutely impeccable, with NO writing, NO fading, NO stickers, NO rips/tears and NO marks of any kind. On side one, The Beatles are listed in German as' Die Beatles' and' Sie Liebt Dich' with (She Loves You) listed underneath. It was kept in Walter Gates possession for 59+ years and most likely came straight from the pressing plant right into his home, never to be touched again. I've never seen any Beatles record of this magnitude. It's absolutely Gem Mint Pristine! This incredible treasure should be in museum due to it's limited pressing, incredible past, and unprecedented condition. The SWAN record mailer has never been discovered until now, and needless to say, has never been seen for sale, till now. It has been stored for OVER 60 YEARS, and is STUNNING. There are NO splits and NO addresses/names. Theses record mailers were used by Swan to send the promotional copies to DJs across the country to gain major air time.
The promotional single has black print with "PROMOTION COPY" to the right of the center hole on both sides and a large "X" (printed to simulate hand writing) in the lower left corner of the A side. The X was so the DJ could immediately identify the A side. Side 1: VIRTUE STUDIO S-4152-S (machine stamped) -1 R.
Side 2: VIRTUE STUDIO S-4152-I (machine stamped) -1 R. Published by: Gil Music Corp. Published by: Northern Songs Ltd.
Released May 21 1964, the RCA pressings were one of the first of the Swan Beatles singles to have DON'T DROP OUT printed on the upper left side of the label. The publisher's name was printed at the left side, the words "PROMOTION COPY" and running time were printed at the right side of the label. The 45s were pressed by RCA in Rockaway, New Jersey, can be identified by the tall thin letters used for the song titles and the group's name. This thin title variation is pressed without quotation marks. The trail off areas of these singles contain the following machine stamped markings : VIRTUE STUDIO S-4152-S -1 R.
The History of Swan Records. Swan records was founded in 1957 in Philadelphia Pa. And remained in business for 10 years. Swan Records is probably best known for releasing The Beatles' " She Loves You " in the United States. The label was co-owned by Bernie Binnick and Tony Mammarella, and featured production talents such as Frank Slay and Bob Crewe, along with Walter Gates, but it was Binnick who secured the American rights to this song during a summer vacation in England. Oddly enough, in May 1964 Swan released the German language version "Sie Liebt Dich" in the United States, which failed to make an impact. Swan Records original address was 1405 Locust St in Philadelphia in 1960. Legendary icon Dick Clark helped them with promotions, with many of their artists, much before Beatlemania, but then the Payola scandal hit and Clarks involvement with the company had to be terminated.
In 1962 Swan moved to 1703 Jackson Street. By 1963 they moved to their last offices, located at the northwest corner of 8th and Fitzwater Streets, in Philadelphia.
Swan closed its doors in 1967. Recent feedback left for sales of my rare Beatles treasures from 2023. Looks even better in person!
PRISTINE BEATLES SWAN S-4152-S SHE LOVES YOU 45 WITH RARE MAILER +PICTURE SLEEVE. The package arrived in two days, very very well packed.
BEATLES MONO SWAN S-4182-S SIE LIEBT DICH ONE LINE TITLE VIRTUE STUDIO & MAILER. SEALED BEATLES STEREO BUTCHER COVER YESTERDAY & TODAY WITH CAPITOL RECALL LETTER. This will be a great companion to my promo version which goes with my stock copy. PRISTINE BEATLES PAUL McCARTNEY TEST PRESSING MONO PRO-8812'WITH A LITTLE LUCK.
Beautiful copy, exactly as described. Excellent communication, well packed, and super fast service!
ES 1968 WHITE ALBUM LOW# A 0276989 ALL 7 RARE ERRORS PHOTOS/POSTER. A quality item accurately described. BEATLES'LOST HARRISON COMPRESSED' WHITE ALBUM RARE A28 B29 MATRIX LOW #.
I was very pleased with the item I bought. It arrived quickly & in good condition.
You did a great job packing. Everything was just as you described it thanks. NM RARE 1965'4-BY THE BEATLES' R-5365 7 EP WITH ULTRA MEGA RARE HARD SLEEVE. TAKES HIS TIME PACKING ITEM JUST SUPERB!!! BEATLES 1968 WHITE ALBUM FIRST PRESSING EX/NM COVER & LPs WITH PHOTOS AND POSTER.
The item was packaged very well! The item was in the condition that was stated in the listing. BEATLES'68 LA WHITE ALBUM J40/J41 MATRIX ALL 7 ERRORS #0446964 NM COVER & LPs.

---