MINT BEATLES WHITE ALBUM SCRANTON PRESSING WITH ALL 7 ERRORS MINT LPs & NM COVER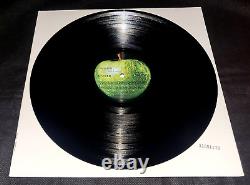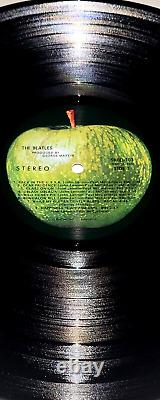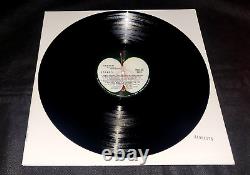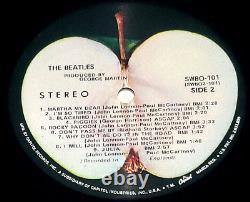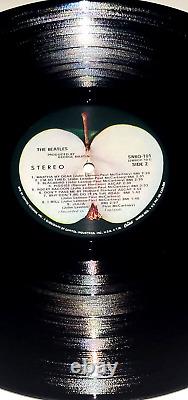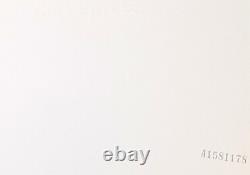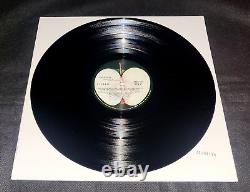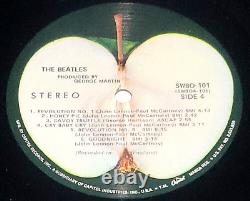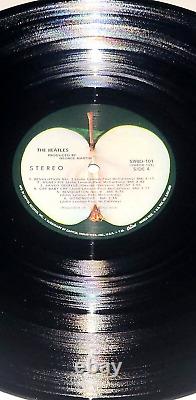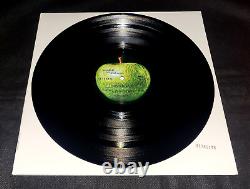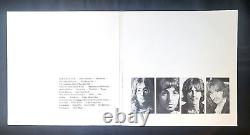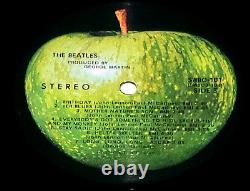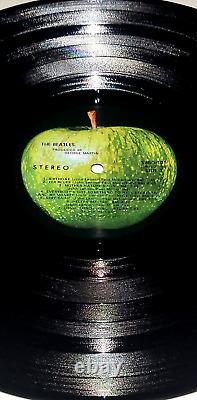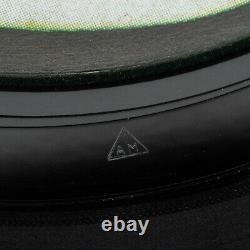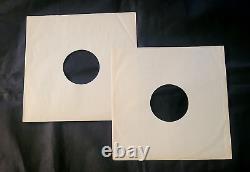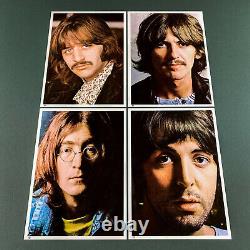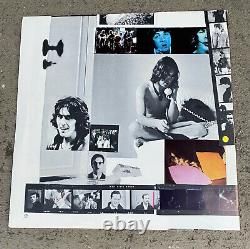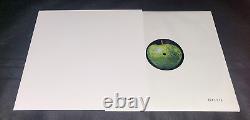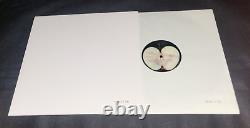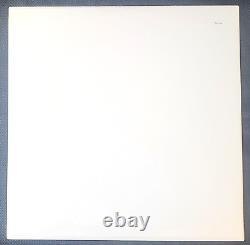 THE BEATLES 1968 WHITE ALBUM # A 1581178 SWBO-1-101 FIRST SCRANTON PA PRESSING WITH ALL 7 RARE LABEL ERRORS NM COVER & MINT LPs WITH PRISTINE LABELS, NM PHOTOS AND EX ORIGINAL POSTER WITH LYRICS! This is an extremely stunning original Scranton first pressing with. ALL 7 RARE label errors.
Few are known to be for sale with NM. COVER with ZERO SEAM SPLITS, MINT. Labels, EX poster & all 4 NM original heavy stock portrait pictures. This is one of the very best'68 Scranton pressings with errors I have ever offered for sale! THE BEATLES White Album 2-LP Gatefold vinyl set.
Three words every collectors strives for. I have devised a solution.
Additionally, each record will be put in a paper/poly sleeve for easy identification, and also stamped with the same number as your White Album. This will keep your original Apple cover from seam splittings and preserve it for many years to come! This is as nice a White Album with ALL 7 errors you'll ever find for sale anywhere!
Embossed and low numbered A 1581178 Original 1968 U. First pressing of The Beatles'White Album'.
This is the rare and highly sought after pressing containing all 7 printing errors on the labels. Upon release of the album, John Lennon noticed these mistakes and had them corrected immediately on future pressings but not before some of these extremely rare error copies had already entered the marketplace. Extremely glossy MINT LPs with NO scratches/scuffs.
Labels are absolutely Pristine with NO writing and NO marks. Poster is EX and ALL 4 ORIGINAL heavy stock portrait photos are NM!!
The inner/outer spines are in MINT condition. Gorgeous glossy stark white amazing NM cover, with NO SEAM SPLITS, ZERO SEAM SPLITS, NO tape, NO writing, NO stickers, and NO ring wear. NO WRITING on any of the record labels, and NO WRITING on the sleeve anywhere!! The spindle whole are pristine.
Be sure to check out my new exciting collection of Beatles & Beach Boys treasures: TheFifthBeatleStore. This is as nice as you'll EVER see for sale. ALL the photos you see are completely undoctored and free from any Photoshop, and are of the EXACT treasures you will receive!! You really don't want to miss this one, as White Albums with these rare 7 errors, MINT cover, MINT LPs, all 4 NM Original photos and EX original poster with lyrics, rarely come along!
Triangle with the initials IAM indicates that the record was pressed at the Scranton, Pennsylvania plant. IAM' stood for the I nternational A ssociation of M achinists union whose members worked at the Scranton, PA plant. (Scranton pressing with IAM triangle).
(Scranton pressing with IAM triangle) Side 3: SWBO-3-101- J47 #3. (Scranton pressing with IAM triangle) Side 4: SWBO-4-101- J44 #2. Here are all the 7 song errors on the labels: 1.
"Bungalow Bill" instead of "The Continuing Story of Bungalow Bill" 2. "Obladi Oblada" instead of "Ob-la-di Ob-la-da" 3. "Rocky Racoon", missing the second "C" in Raccoon 4. "Goodnight" instead of "Good Night" 5.
1" instead of "Revolution 1 6. 9" instead of "Revolution 9 7. "Why Don't we do it in the road" without the question mark? Error #7 without the question mark, is the rarest of all the 7 These are RARE, but If you can find others for sale, make sure error #7 is among them! Here's very invaluable information on how The Beatles White Albums were numbered, and the meaning behind all the sequences...
The first 25 White Albums were numbered with an'A' prefix and then a series of zeros preceding the number e. There are always seven digits following the'A' so if it was a single digit number it would be preceded by six zeroes or if it was a two digit number it would be preceded by five zeroes. It is not known what the'A' was indicative of (it may mean printed in America or Apple but neither is confirmed). Numbers 26-99 were three digit numbers preceded with a zero and no prefix. Numbers 100 through approximately 209,999 were preceded with the correct number of zeroes to make them a seven digit number.
Beginning around 210,000 to up near 590,000, they were preceded by a zero and had an'A' prefix. Copies 590,000 up to about 1,350,000 remain at seven digits using a leading zero if necessary and are prefixed with a large dot. The next batch from 1,350,000 up to some point past 2,000,000 are prefixed with an'A' but it's a thinner'A' than used earlier with. Stamped in the dead wax rim From 2,000,000 to around 2,250,000 some are prefixed with a large dot and some with the'A' From 2,250,000 up to 3,000,000 the numbers are prefixed with the abbreviation for number i. On some of these the'o' in No.
Is raised with the period below it instead of beside it. For the final numbers over 3,000,000 the numbers are prefixed with a wide'A. The value here is the rarity of the record label errors. The LPs are in MINT condition.
What makes this rare treasure more exceptional and highly collectible are the impossible to find ALL 7 LABEL ERRORS which are clearly listed above. Please expand all the above photos so you'll know what you're getting. Please make sure the items you see above are exactly the items you are seeking to add to your collection..
Recent feedback left for sales of my Beatles treasures in 2023. Nice addition to my collection. NM/MINT BEATLES WHITE ALBUM SCRANTON PRESSING WITH ALL 7 ERRORS NM/M COVER & LPs #126023730212. The Fifth Beatle is a PRO!
PRISTINE BEATLES SWAN S-4152-S'SHE LOVES YOU' WITH RARE MAILER & PICTURE SLEEVE. Beautiful copy, exactly as described.
Excellent communication, well packed, and super fast service! ES 1968 WHITE ALBUM LOW# A 0276989 ALL 7 RARE ERRORS PHOTOS/POSTER.
A quality item accurately described. BEATLES'LOST HARRISON COMPRESSED' WHITE ALBUM RARE A28 B29 MATRIX LOW #. I was very pleased with the item I bought. It arrived quickly & in good condition. You did a great job packing. Everything was just as you described it thanks. NM RARE 1965'4-BY THE BEATLES' R-5365 7 EP WITH ULTRA MEGA RARE HARD SLEEVE.
TAKES HIS TIME PACKING ITEM JUST SUPERB!!! BEATLES 1968 WHITE ALBUM FIRST PRESSING EX/NM COVER & LPs WITH PHOTOS AND POSTER.

---