Mint? Beatles John Lennon 1974 P-1874 Promo'whatever Gets You Thru Thru Night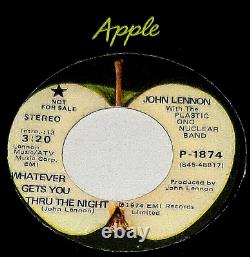 MINT BEATLES JOHN LENNON 1974' WHATEVER GETS YOU THRU THRU NIGHT' P-1874 RARE APPLE DJ PROMO 45 PRESSED IN BOTH MONO & STEREO CLEARLY LABEL MARKED' NOT FOR SALE. Gorgeous Ultra Mega Rare U. Apple DJ Promo 45 John Lennon' Whatever Gets You Thru The Night' released October 1974 recorded by John Lennon with The Plastic Ono Nuclear Band! This ultra rare Apple Promo 45 has the track recorded in Mono on the A side, and Stereo on the B side. These impossible to find Apple Promos are clearly marked' Not For Sale' on BOTH A & B sides!
The record is stunningly MINT, looks and plays like new, with ZERO scratches and ZERO scuffs. So stunning as it seems to rarely have had a needle on it, if ever. Nicest copy I've ever owned or seen. The labels are MINT clean, with NO writing, NO peeling, NO rips/tears, NO stickers, NO glue residue, and NO marks!
The original NM genuine black APPLE sleeve is exceptional with NO seam splits, NO rips, and NO writing! This rare Beatles John Lennon treasure was pressed at the Los Angeles California plant, west coast sleeve! Be sure to check out my new exciting collection of Beatles treasures: TheFifthBeatleStore. John Lennon's "Whatever Gets You Thru The Night" was notable for the guest appearance by Elton John, who was at his commercial pinnacle in 1974.
Lennon explained: How that record came about was that Elton was in town and I was doing it and needed a harmony. He did the harmony on that and a couple more and played beautiful piano on it. The song went to Number One on the Billboard Hot 100, which Lennon felt was undeserved: That was a novelty song. It's the only one I've done since I left the Beatles to get to Number One.
We didn't get a good take on the musicians, but I just quite like the words. It was more commercial than, say,'Imagine,' but in my opinion,'Imagine' should've been Number One and'Whatever Gets You Thru The Night' should have been Number 39.
It just doesn't make sense. Lennon's only other solo Number One hit was "(Just Like) Starting Over, " which came shortly after his death. "Whatever Gets You Thru The Night" was responsible for one of Lennon's last public concert appearances, however.
During the session, Elton John made Lennon promise that if it reached Number One, Lennon would perform it live with him. On November 28th, 1974, Lennon honored the agreement, appearing onstage with Elton at New York City's Madison Square Garden, performing not only the hit but also two Beatles songs, "Lucy In The Sky With Diamonds" (which Elton John had covered) and I Saw Her Standing There. Lennon's band for the Walls And Bridges sessions was named the Plastic Ono Nuclear Band.
Whatever Gets You Thru The Night. Apple promo with mono and stereo versions. Side A is MONO Side B is STEREO Release is marked "Not For Sale".
Black'Apple' sleeve is the West Coast tab-cut version. Matrix / Runout (Mono Side) : PRO-6969.
Matrix / Runout (Stereo Side): S45-48817. John Lennon - vocals, guitar Elton John - keyboards, vocals Jesse Ed Davis - guitar Eddie Mottau - acoustic guitar Klaus Voorman - bass Ken Ascher - clavinet Bobby Keyes - tenor saxophone Jim Keltner - drums Arthur Jenkins - percussion.

---