John Lennon Two Virgins Mono APCOR 2 UK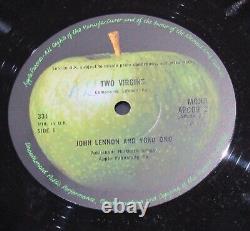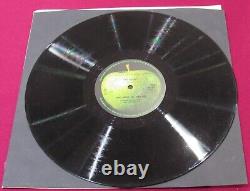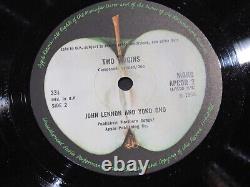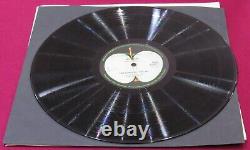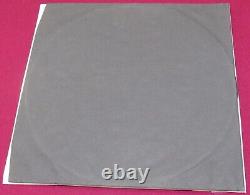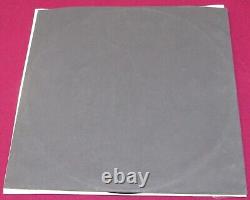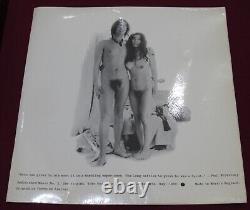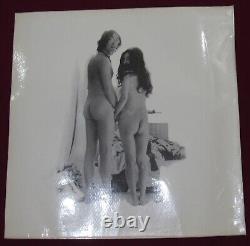 John Lennon Two Virgins UK Mono APCOR 2. This is the incredibly rare mono UK version of Two Virgins.
I have old copies of Melody Maker with advertisements that include the mono version. I suspect most copies were destroyed. It is estimated than less than 200 copies were pressed in mono.
This is a superb copy. The sleeve is the super thin card version with laminate. There were two versions of the stereo version. One of which, has the writing on the front cover, and is often confused for the mono copy.
The difference is that the stereo version is made from thick card and the glossy covering is not a film laminate. I wonder how many stereo covers have been passed off as mono? The laminate is renowned for not fixing properly to the sleeve, and this one is no exception.
The laminate is lifting in parts but does not detract from the condition of this one, which is near mint; remaining lovely and white. The vinyl is near mint, which is not unusual as this record was seldom played more than once. The label on side one has writing which appears to say'CAR' but could be CARL. It is luckily not a strong pen colour, being a feint blue. A super rare item that very rarely comes to the market.
I've only seen another one. In 33 years of collecting. I added this item to the collector's website'your-collection'. It's a Dotcom site where you can zoom in to the images below and see them at a much higher resolution.
The site hosts my collection and gives me searchable unique lists of my choosing so I can see exactly what I own and what I need. I know what's in my collection and the value of all my items and my lists at any time - with a growth factor of my choosing. Go take a look and see how much it has to offer the collector. Sleeve - near mint with some common laminate lift. Labels are near mint, except for writing on side 1 Vinyl is near mint. The white wiggly mark on the B-side photo is a hair. It's not a scratch. Photo are taken with 4 x spotlights directly above. Send it back in the original condition, well-packed, insured and tracked within the time prescribed in the listing.

---