John Lennon Box of Vision CD and Book Set MINT CONDITION Beatles 793018222327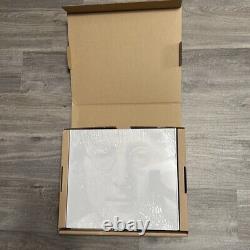 John Lennon - Box of Vision CD and Book Set MINT CONDITION. In commemoration of the 70th anniversary of John Lennon's birth, THE JOHN LENNON Box Of Vision®, a limited edition individually numbered collection, is officially licensed by Yoko Ono Lennon. The stunning new collection includes. A 166-page hard bound book containing all of John Lennon's, and John Lennon and Yoko Ono's, LP artwork, brilliantly restored in pristine new LP-size art prints.
This is the first time that all of this album artwork has been collected together in a single LP sized book. This book includes front covers, back covers, gatefolds and inserts arranged to create the feeling of holding and enjoying the entire LP collection in your lap. It includes the complete artwork from WEDDING ALBUM, arranged for the first time in book form, to be viewed as an actual wedding album would; the complete calendar artwork for LIVE PEACE IN TORONTO 1969; and the complete artwork for all of John's, and John and Yoko's, officially released studio LPs, worldwide compilations and live albums originally issued in the LP format. The "Catalography, " a brand new, full color discography of John's, and John and Yoko's, album catalog, with an exclusive essay and textual guide; newly restored reproductions of classic Lennon album advertisements; John's handwritten "sound" notes to DOUBLE FANTASY and MILK AND HONEY; and more. The patented BoxOfVision CD storage system, built to store all of John Lennon's official CD releases, it can hold up to 32 different CD albums, in an expandable and adaptable format to accommodate any fan's collection. In addition, this limited edition collection includes two (2) art-adorned recordable DVDs, and two (2) different art-adorned recordable CDs, intended for fans to record and store audiovisual and audio content they choose. Boxofvision has received permission from Yoko Ono to create these unique recordable discs using classic John, and John and Yoko, art elements.
Ideal for fans, collectors and holiday gift giving, the limited edition set (less than 7500 numbered copies will be made available worldwide) is the perfect complement to Lennon's remastered albums and new collections to be released October 5 by EMI Music. Housed in a unique "artist's canvas" oversized Box (measuring over 15 inches by 13 inches, and 4 inches deep), the set is wrapped in a stunning, silver-inked portrait of John Lennon, with a precise reproduction of John's original line drawing "Baby Grand" on the back. The JOHN LENNON Box Of Vision was conceived by Jonathan Polk, of Boxofvision LLC.
"To mark the 70th anniversary of John's birth, we have created something special that we believe his fans will treasure, and we hope they will pass on to their children as a way of helping to preserve the legacy of John's music and ideals for future generations, " said Polk. The JOHN LENNON Box Of Vision is being released in conjunction with the John Lennon Time Capsule project, three time capsules which were sealed on October 9, 2010 to be unsealed in a worldwide ceremony on October 9, 2040.

---