JOHN LENNON Art Gallery Exhibition Poster HAND SIGNED BY YOKO ONO The Beatles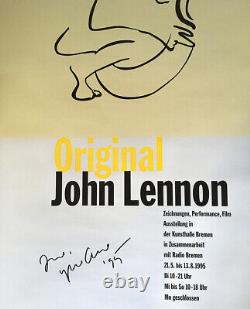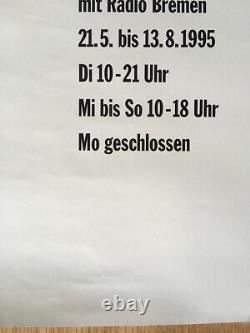 Excellent Condition Art Gallery Exhibition Poster. HAND SIGNED AND DATED BY YOKO ONO.
Poster size 595mm (23.5 inches) x 840mm (33 inches). Printed in two colours (yellow and black) on gloss art paper. The poster is in very good condition for its age it's now 27 years old! It has some minor faults which you can see from the photos. It was, for a time, hung on a wall by two plastic clips which have left indents in the paper at the top.
It has a couple of minor'dings' to the edges. It has been rolled for many years and there are some minor signs of creasing from that. Pretty much all of these faults could easily be matted out when framed.
EXHIBITION HELD AT DER KUNSTHALLE BREMEN, GERMANY 21 MAY - 13 AUGUST 1995. AN EXHIBITION OF DRAWINGS, PERFORMANCE AND FILM IN THE ART HALL, BREMEN, IN CO OPERATION WITH RADIO BREMEN. SIGNED IN BLACK SHARPIE PEN. POSTER CARRIES THE BRANDING OF THE KUNSTHALLE BREMEN AND THE ESTATE OF JOHN LENNON, LICENSED FROM BAG ONE ARTS. WILL COME PACKAGED IN ACID FREE TISSUE, PACKAGED AND PROTECTED IN STURDY TUBE.

---