BEATLES RARE STEREO 3RD STATE PEEL BUTCHER COVER YESTERDAY & TODAY WithTRUNK SLICK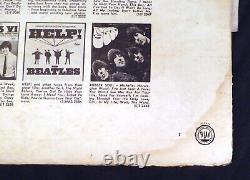 Beatles 3rd State Rare Stereo Scranton PA Professionally Peeled Butcher Cover. First time offering of a Peeled Stereo Butcher Cover complete with the Removed Trunk Slick. Very reasonable fixed price for a Stereo peel of this quality peeled by TheButcherCover peelers. Especially compared to what is usually and currently offered in this price range for a much rarer Stereo peel. While there are some condition issues with the jacket, this could be yours for a fraction of what a top condition example would cost.
Stereo Butcher Covers in particular have steadily risen in value over the last few years and are fetching crazy numbers in high profile catalog auctions. These stereo pressings, according to Capitol Records production statistics, are far more rare than their mono counterparts and rarely show up peeled in displayable condition. Look around at what is available. There are very few stereo peels of notable quality. Unfortunately, too many covers continue to be severely damaged by amateur peels and it pays to invest wisely and carefully consider the quality of the peel when investing in a 3rd state (peeled) cover. Don't just take our word for it, look around. Look for yourself at the offerings on the net and compare.
Butcher Cover is awesome and something that any fan would treasure. Compare this to what is offered on the web in a similar price range and we're sure you'll agree that this is pretty nice and better than most as far as Stereo peels are concerned. No large tears or other evidence of serious damage to the butcher slick. Glue residue/Capitol factory brush lines from application of that adhesive (at the original Capitol pressing plant) used to adhere the trunk cover isn't too bad on this one but please take your time and look at the photos before making your mind up.
Please see photos and text below for further more specific details about the actual physical condition of the jacket. Top seam has a cleanly repaired 5 crack from the middle of the top seam to the mouth edge.
Bottom seam appears to have been mostly split and also neatly glued. Spine is not too bad and all writing is legible with just a few small chips of missing paper (one in the very middle and one at the bottom tip) and some light checking in a few spots. The back of the jacket shows light to average wear/tanning with a light stain in the bottom right hand corner next to the RIAA logo. (See Back of Jacket photo). Removed Trunk Slick is included with some wrinkling and minor repair. Look around for prices and quality on Stereo peels out there.
Many are noticeable amateur efforts with pronounced severe damage from unprofessional peeling. Although this might not be for the super picky collector and even though the jacket has some seam/light wear issues, it still presents better than 95% of all Stereo peels that you see out there in this price range. This is an awesome piece of Rock and Roll history.
This item has been through a laborious process from the 2nd state to what you see here, and as such, the grading is unique on this item. This cannot be graded like a comic book or a baseball card due to the fact that this jacket has twice been altered from its original state, once by the paste over process at the Capitol Factory and likewise by the peeling process. Any minor imperfections are from either process.
The photos speak for themselves and we do our best to accurately grade these historic artifacts. This item is in the category "Music\Vinyl Records".
The seller is "vintagevinylmuseum" and is located in this country: US. This item can be shipped to United States.
Artist: The Beatles
Composer: John Lennon, Paul McCartney
Record Label: Capitol Records
Release Title: Yesterday and Today
Case Type: Cardboard Sleeve
Material: NO RECORD INCLUDED
Catalog Number: ST2553
Edition: First Pressing, 3rd State Peeled
Format: Record Jacket Only
Producer: Sir George Martin
Release Year: 1966
Style: 1960s, British Invasion
Genre: Psychedelic, Rock, Rock 'n' Roll
Country/Region of Manufacture: United States
Number of Audio Channels: Stereo

---