Beatles John Lennon Rubber Soul Inspired Brown Suede Leather Jacket by Suzahdi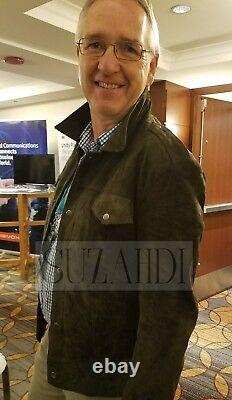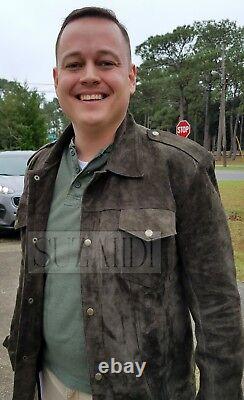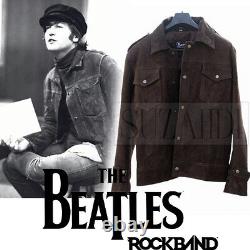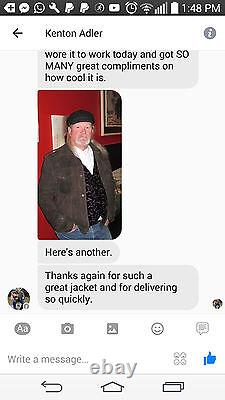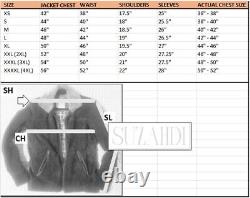 New Beatles the GREAT John Lennon Rubber Soul Style Brown Suede Leather Jacket. Shell: 100% Real Suede Leather. Custom made to measure bespoke for any size. Send to professional leather cleaner only.
SUZAHDI, a fashion brand of Elegant Group Inc headquartered in Pensacola, FL, US since 2012, faithfully creates every leather jacket with extraordinary features in Karachi, Pakistan and Pensacola, Florida. Each is carefully created once you place your order and provide us with your measurements of shoulders, chest, sleeve length, weight and height. Each is hand crafted by our expert team of tailors with your choice of 100% real leather. Wrap yourself in ease and comfort and style complete with inside viscose lining from Italy. In fact, as you can see from 1000s of images online re: Suzahdi...
They are mostly of customers in our jackets, not a bunch of wordy commercials. We also take seriously the legacy of John Lennon and all of The Beatles. We admire their talent and their influence on the world. Whether you choose standard size or custom fit, we need the following measurements to make sure size you chose is correct. Tip of one shoulder to tip of the other.
Tip of one shoulder to halfway between your wrist and the knuckles of your hand. See this John Lennon Rubber Soul style jacket? This is how dark the one we make... Please make sure you choose the right size.
Compare your measurements to our chart. If no standard size matches, please choose Custom / Made to Measure. We aim to please and reply as fast as possible. Please include your item number.
PLEASE NOTE: All SUZAHDI items are Handmade to Order. This listing is for All Standard and Custom Sizes.
Please take your measurements carefully of chest, shoulder to shoulder, and sleeve length (from joint that connects your shoulder to your arm TO the joint that connects your thumb to your hand), and then select your jacket according to the sizing chart image in our listing. Isn't wonderful to know that your very own SUZAHDI product is individually and hand crafted and stitched especially for you and your body size? The postal date of the return must show no more than 7 days after receipt to customer.
All goods are the customer's responsibility once in customer's possession. When trying on items of clothing, please ensure to not use unnecessary force and ensure you are not wearing make-up, perfume, aftershave or a deodorant which may leave a scent or mark on the item. We will be unable to accept the return of any item where there is evidence that the above instructions have not been followed. SUZAHDI guarantees the perfect fit. More than 99% of our orders do not require any further alteration.
SUZAHDI committed to sell high-quality leather products. Go ahead, make a selection and do not hesitate to place your order.
SUZAHDI believes in and practices good business ethics. Therefore, we guarantee you that the leather we use for our products is of extraordinary quality and is 100% genuine and real unlike many competitors who use artificial leather and deceive their customers. We take full responsibility of the integrity of our products. SUZAHDI does not keep an inventory of leather jackets.
We stitch all jackets with new leather and other relative material upon receiving each order from you. We pay special attention to each and every jacket that we stitch with the size provided by you, our valuable customers. Isn't it a wonderful feeling to know that your very own SUZAHDI product is individually and hand crafted and stitched specially for you and your body size?

---