Beatles John Lennon Antique Vintage Genuine Windsor Eyeglasses Rare White Gold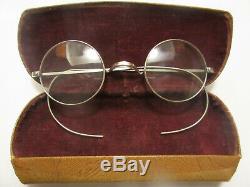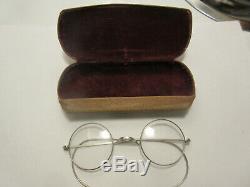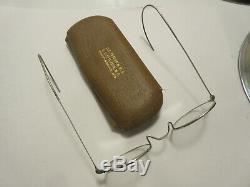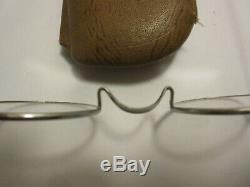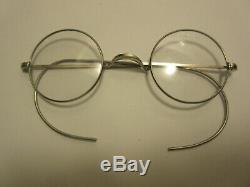 UP FOR SALE IS A GENUINE PAIR OF SIGNED, WHITE GOLD"WINDSOR" EYEGLASSES, CIRCA 1889 AND WELL OVER 125 YEARS OLD, YET STILL IN HONEST "VERY GOOD++ CONDITION"!! ABSOLUTELY NO DIRT, NO GRIME, NO TARNISH OR CORROSION AT ALL...
100% READY FOR YOUR LENSES. 100,000 TIMES AS RARE AS YELLOW GOLD VARIETY. ONLY ONE MANUFACTURED FOR EVERY 100,000 MADE OF YELLOW GOLD FILLED.. John Lennon of the Beatles owned several pairs of these awesome, iconic eyeglasses.
Often referred to as WiNDSOR EYEGLASSES, these were stamped on the back of the bridge C. But definitely made by American Optical between 1885 and 1889 but not sooner... You wanted the best and now you've found THE ABSOLUTE VERY BEST!! As you can easily see, the frames come with a case that's really held up nicely. Tough to find cases with the back hinge still fully intact.
This one looks and works fine. Manufacturing Windsor frames, ended in the year 1910. These eyeglasses were manufactured in the year 1889. The frames measure 4 5/8 inches from hinged edge to hinged edge. The rims are 40MM, considered perfectly round and exactly the same as John Lennon wore. The bridge is set at 23MM. The beautiful, original, cabled temple stems are 6 1/2 inches in total length and will fit most medium to large adult Men or Women. They look gorgeous with bright or pastel colored lenses, which are available in prescriptive form as well, through a place called Replace A Lens (web site available). Drop one of those tiny screws and they're gone forever and not easy to replace unless you know someone like me. My labor is 100% FREE.
To do so would be quite ludicrous, as to be in actual mint condition, they would have to be encapsulated like a coin and untouched by any hands ever. These eyeglass frames have been used, albeit "very lightly used" and are in solid very good condition or better. The Metal and some History.
The frames are made of 1/10th White Gold Filled. Gold filled is a heavy bonding of solid gold and in this case over coin silver (90% pure Silver). The 1/10th means that the total weight of the gold used to make these must weigh at least 10% of the entire weight of the metal.
Many folks have found that these often produce much more gold, in scrap, than what is reported or stamped on the back because the gold was applied by hand in ribbon style form, much the same way thread is spooled onto the eyes of a fishing pole. I've seen yields of gold over 15%. They were manufactured sometime between 1885 and 1889.
The exact position of where the bridge arms attach to the rims also determines the year of manufacturing. You think I've done enough research? No one, on this planet, has researched these iconic frames any more than myself. Please read on and learn.. American Optical had its highest production years in 1880, 1885, 1889, 1905 and 1909.
It took 27, different skilled craftsmen to make them. In the photos of John Lennon above, John was actually wearing Windsor frames with the Convex style saddle bridge but these are also beautifully engraved or textured with a gorgeous hand engraved design. Be advised, John Lennon wore both styles, including the concave variety, and either of them are considered authentic to John Lennon. The Fame and additional History. According to Yoko Ono and Sean Lennon, John Lennon owned over 40 pairs of gold, wire rimmed eyeglasses.
These frames were also made famous and were worn by Teddy Roosevelt, Ernest Hemingway, Joseph Stalin, Winston Churchill, Mahatma Ghandi, Groucho Marks and even David Letterman, Whoopee Goldberg, Sting and Ozzy Osbourne wear these same frames, along with a slew of other famous rock musicians. Everyone felt John Lennon was trying to make a fashion statement, when he first started wearing gold wire rimmed eyeglasses, late in the year 1966 but the truth is, "he fancied the way the curled, cabled stems wrap around his face" and would not fall off or even shift.
They're highly sought after by both avid Beatles collectors and antique eyeglass dealers, musicians, motorcycle and horse riders. I love them for fishing and picking weeds in the garden. When they are as exquisite as these, they can command a much higher value as well. It simply does not get much better than this. These eyeglass frames will not need to be cleaned or polished for a very long time.
With my used frames, the lenses are removed to completely to clean and polish the bezels, which is vital to obtain a solid fit when installing new lenses. No dirt, no grime, no tarnish, no corrosion anywhere on this pair of truly antique beautiful spectacles. They also tend to make heads turn and I'm often asked about them when I'm wearing mine. They're awesome folks and look great on both female or male adults and children alike and are also the exact same used in the Harry Potter trilogies, however the rims on Harry's, were covered with an era specific, special plastic called "Zylonite" or just plain "Zylo". These eyeglasses come with a very handsome, steel / hard antique eyeglass case, that's "Era Specific", is also in very good condition.
Both the frames and case were STORED PROPERLY over the many years.. These frames are more popular than ever... I'm talking about THE REAL THING.
Even those that have John Lennon's name engraved or embossed on them are not authentic and quite inferior to these. I'm still pinching myself. I'm happy to present to you, a genuine pair of American Optical manufactured Windsor eyeglass frames in TRUE EXCELLENT++ CONDITION! I've lowered my costs and folks have been pounding it often. Check my feedback and see for yourself. The item "BEATLES JOHN LENNON ANTIQUE VINTAGE GENUINE WINDSOR EYEGLASSES RARE WHITE GOLD" is in sale since Thursday, May 16, 2019. This item is in the category "Clothing, Shoes & Accessories\Vintage\Vintage Accessories\Eyeglasses".
The seller is "asylumrockmusic" and is located in Spokane, Washington. This item can be shipped worldwide.
Gender: Adult Unisex
Modified Item: No
Country/Region of Manufacture: United States
Style: ROUND "STEAMPUNK"
Temple Length: 6 1/2 INCHES
Look: STEAMPUNK ( PERFECTLY ROUND )
Decade: CIRCA 1889
Original/Reproduction: ORIGINAL ( 100% GUARANTEED REAL )
FRAME WIDTH: 4 5/8 INCHES
Type: GENUINE WHITE GOLD WINDSOR EYEGLASS FRAMES
RIM SIZE ( ALSO REFERRED TO AS LENS ): 40MM RIMS / 39.5MM LENSES
SIZE: MEDIUM TO LARGE ADULT
Marks / Stampings: C.
ERA: CIRCA 1889 AND WELL OVER 125 YEARS OLD
MPN: N/A
CONDITION: TRUE EXCELLENT CONDITION
Frame Material: 1/1OTH - 12K WHITE GOLD FILLED
Occasion: Everyday
Brand: AMERICAN OPTICAL
Frame Color: WHITE GOLD / BRIGHT SILVER

---