Beatles John Lennon Antique Vintage Genuine Windsor Eyeglasses Ex To Nm Cond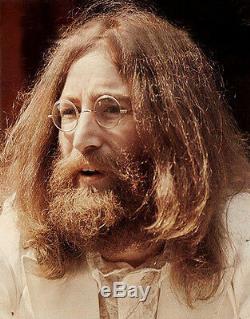 First off I'd like to express my heart felt prayers and blessings to all people of the world, many of which are paying the ultimate price since the outbreak. Let us not judge anyone or any country.
Our heroes will be the massive medical technicians, doctors and nurses and other people of the world, who boldly and unselfishly take care of those infected or watch out for those whose health is compromised, literally risking their lives, being careful to thank and award those essential workers as well. Any cold or flu could kill me but this viral disease is NASTY, massively contagious and deadly to those with compromised health. Do your best to stay safe, help your neighbors and loved ones and you can bet we'll deal with all of those cowards, whose relentless ransacking of food, dry goods and medical supplies has cost us all so dearly. God Bless Everyone and I truly mean those words with all my heart. They should be banned for life and never be able to sell on any internet site ever again..
UP FOR SALE IS A GENUINE PAIR OF ANTIQUE WHITE GOLD FILLED WINDSOR EYEGLASSES, CIRCA 1880 TO 1910 WELL OVER 100 YEARS OLD, YET STILL EXCELLENT CONDITION!! 100% CLEAN, STERILIZED, POLISHED AND READY FOR YOUR LENSES.. John Lennon of the Beatles searched high and low for a pair of "White Gold Windsor" frames but only found one pair of them, despite the fact he also had Beatles stage manager Mal Evans and Beatles road manager Neil Aspinall looking for them as well.
There was no internet when John Lennon was alive. John Lennon was also well known for visiting a flea market stall in Camden Passage, fairly close to London, that's still there today, open only on Wednesdays just like it was back in the day.
I believe it was Mr. Aspinall who found John's very first pair of Windsor Yellow Gold Filled eyeglasses at an antique sale in Denver Colorado in 1966. Marshwood frames have nose pads. All Windsor frames do not have nose pads. The back of the bridge is stamped "Shur-ON GF" (no other stamps or marks on the frames). The Temple stems are NEW OLD STOCK and in Pristine Condition. The gorgeous case I'm including is also New Old Stock, in Pristine Condition and nearly impossible to find in this condition for sure. "Museum Grade" is correct and warranted for these frames, stems and case. The lenses are prescriptive and show only minute wear.
I did not find a scratch on the frames or lenses. They have been used but VERY GENTLY USED and most sellers would grade the main frames as Near Mint Condition. Measurements: The frames measure 4 5/8 inches from hinged edge to hinged edge.
The rims are 40MM, considered perfectly round. The bridge is set at 20MMbut can be widened ONLY BY A PROFESSIONAL as it requires heat and special guarded pliers.
The temple stems are 6 1/4 inches in total length and will fit most small to medium adult men and women. I encourage you to check with me first before going somewhere else as I can often save you a chunk of change on parts and I encourage you to keep my contact information on file in case something goes wrong.
Drop one of those tiny screws and they're gone forever and not easy to find replacement screws as they are quite unique and can be expensive. The screws to these are also Gold Filled. I have a slew of repeat customers. I also sell all of the eyeglasses and sunglasses any of The Beatles ever wore, including their Yellow Gold cousin. I have a very nice stock available on the Yellow Gold frames available. If its the Yellow Gold frames you desire, I encourage you to inquire within because I have those available as well. When they're discovered, in this condition, they often command a lot of attention.
My feedback definitely says something and may folks consider me "the very best". The Metal: The frames are made of 1/10th White Gold Filled. Gold filled, is a heavy bonding of solid gold and in this case over coin silver (90% pure silver). The 1/10th means that the total weight of the gold used to make these must weigh at least 10% of the entire weight of the metal.
Many folks have found that these often produce much more gold, when scrapped, than what is reported or stamped on the back because the gold was originally applied by hand, much the same way thread is spooled onto the eyes of a fishing pole. CONDITION MEANS EVERYTHING but I've seen yields of gold over 15%. They are quite old and antique (at least 100 years old) yet still in TRUE EXCELLENT CONDITION and of course the Temples (temple stems) and the case are both NEW OLD STOCK and therefore considered in Near Mint Condition (never used) and the case was just taken from an actual American Optical box and I can provide additional photos that will prove that statement. According to Yoko Ono and Sean Lennon, John Lennon owned over 40 pairs of yellow or white gold wire rimmed eyeglasses. John Lennon owned only one pair of Windsors in White Gold as White Gold was not available for commercial use until the year 1922.
So all White Gold Windsor eyeglasses are considered rare (100.000 to 1 compared to their Yellow Gold cousin) and were made much more "heavy duty". Windsor frames were also made famous and were worn by Teddy Roosevelt, Ernest Hemingway, Joseph Stalin, Winston Churchill, Mahatma Ghandi, Groucho Marks and even David Letterman, Whoopee Goldberg, Sting and Ozzy Osbourne wear these or something very similar.
For years, folks felt John Lennon was simply trying to make a fashion statement when he first started wearing these late in the year 1966 but the truth is that he fancied the way the curled, cabled stems wrap around his face and would not shift or fall off his face as he bounced around playing his guitar. They're highly sought after by both avid Beatles collectors and antique eyeglass dealers, MUSICIANS, motorcycle and horse riders and I love them for fishing and picking weeds in the garden and fishing.
When they are as exquisite as these, they can command a much higher value as well. These eyeglasses have been completely professionally cleaned, polished, then sterilized soaked for several hours in 100% pure, medical grade Isopropyl Alcohol and that's very important with these much older, iconic frames and cleaning and sterilizing the rims is mandatory with me and greatly helps the lenses to fit snug within the bezels of the rims when installing new lenses. These arrived to me with lenses in them. The first thing you're going to want to do is try them on.
Without lenses, the rims can easily be bent, especially the yellow gold variety. Almost all White Gold frames were made thicker and back in the day, were considered "heavy duty" when compared with their yellow gold cousin. White gold did not come out for commercial use in jewelry or eyeglass frames until the year 1922.
Until 1922, the ONLY way a person could obtain true White Gold Windsor frames was to special order them and they also cost 30 times as much as the yellow gold variety. It is reported that "White Gold Windsor frames are 100,000 times as rare as Yellow Gold Windsor frames".
I've done my research and I would think you would as well but these are nothing short of ABSOLUTELY GORGEOUS. The Eyeglass case: The eyeglass case is in NEAR MINT CONDITION (Unused / New Old Stock), made by American Optical and branded on the back of the case with the proper American Optical logo and it can be a bit puzzling to find but it's there. In the final photo I'm desperately trying to show you the gorgeous, still new, cornflower to royal blue velvet lining.
These frames are more popular than ever. I'm talking about THE REAL THING. Even those that have John Lennon's name engraved or embossed on them are not authentic and quite inferior. Funny how most of those don't look like anything John Lennon ever wore. That's because he didn't wear them.
Yoko Ono did and the majority of them reflect those styles she wore. I'm happy to present to you, a genuine pair WINDSOR eyeglasses, made by Shur -ON in the United States in true, EXCELLENT to NEAR MINT CONDITION. I do not charge anyone for packing materials at all but they're packed very securely with a concern and preference for reuse and recycling.
BE READY FOR A BATTLE!! The item "BEATLES JOHN LENNON ANTIQUE VINTAGE GENUINE WINDSOR EYEGLASSES EX TO NM COND" is in sale since Thursday, June 11, 2020. This item is in the category "Antiques\Science & Medicine (Pre-1930)\Optical". The seller is "asylumrockmusic" and is located in Spokane, Washington.
This item can be shipped worldwide.
Look: STEAMPUNK ( PERFECTLY ROUND )
Temple Length: 6 1/4 INCHES
FRAME WIDTH: 4 5/8 INCHES
RIM SIZE ( ALSO REFERRED TO AS LENS ): 40MM
SIZE: SMALL TO MEDIUM
Maker: Shur On
Marks / Stampings: Shur-ON GF ( GOLD FILLED )
Occasion: Everyday
ERA: CIRCA 1885 AND WELL OVER 125 YEARS OLD
Brand: Shur-ON GF
Gender: Adult Unisex
Type: GENUINE WINDSOR EYEGLASS FRAMESS
Frame Material: 1/1OTH - 12K WHITE GOLD FILLED
Country/Region of Manufacture: United States
Original/Reproduction: ORIGINAL ( 100% GUARANTEED REAL )
Style: ROUND "STEAMPUNK"
Frame Color: WHITE GOLD
Decade: CIRCA 1885

---