Beatles John Lennon Antique Vintage Genuine Signed Windsor Eyeglasses Exlt Cond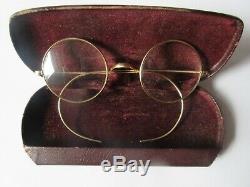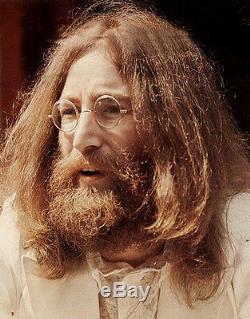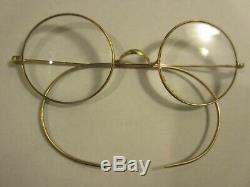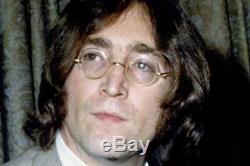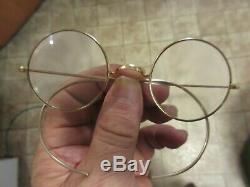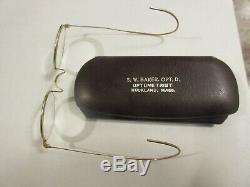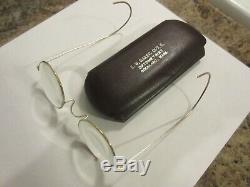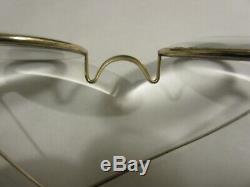 First off I'd like to express my heart felt prayers and blessings to all people of the world, many of which are paying the ultimate price since the outbreak. Our heroes will be the massive medical technicians, doctors and nurses and other people of the world, who boldly and unselfishly take care of those infected or watch out for those whose health is compromised, literally risking their lives. Contracting any cold or flu could kill me but this viral disease can be lethal to folks like me that are so compromised and is massively contagious. WEAR A MASK and practice social distancing. Do your best to stay safe and PLEASE help your neighbors and loved ones who are compromised.
God Bless Everyone and I truly mean those words with all my heart. They should be banned for life..
UP FOR SALE IS A GENUINE PAIR OF ANTIQUE, YELLOW GOLD FILLED SIGNED "WINDSOR" EYEGLASSES, CIRCA 1885 WELL OVER 100 YEARS OLD, YET STILL EXCELLENT CONDITION!! 100% CLEAN, STERILIZED, POLISHED AND READY FOR YOUR LENSES. NO GRIME, NO DIRT, NO TARNISH, NO CORROSION. John Lennon of the Beatles searched high and low for Windsor frames himself. Unfortunately, he died before the internet existed. He also had Beatles stage manager Mal Evans and Beatles road manager Neil Aspinall looking for them as well. John Lennon was also well known for visiting a flea market stall in Camden Passage, fairly close to London, that's still there today, open only on Wednesdays just like it was back in the day. I believe it was Mr. Aspinall who found John's very first pair of Windsor Yellow Gold Filled eyeglasses at an antique sale in Denver Colorado in 1966. Marshwood frames have nose pads. All Windsor frames do not have nose pads. The bridge on this pair of frames is known as "The Convex Saddle Bridge" and is exactly what John Lennon is wearing in the photos I have of him in the listing. The back of the bridge is stamped with the early American Optical logo, next to the word "WINDSOR", next to the common hallmark, which is a 3/4 rectangle with a tiny "o" in the center, designating these as 1/10th 12K Gold Filled. The Temple stems are in fantastic condition as well and show no signs of tarnish or corrosion and are beautifully textured along the outer sides. Finding Windsor eyeglasses with textured temples rarely occurs. Most textured temples made are much thicker and were used for the Marshwood Round eyeglasses that have nose pads.
The brown, era specific (of the times), faux leather / vinyl case, I'm including, is in VERY GOOD CONDITION with some wear and loss of vinyl at the hinge in the back but is still very much intact and working properly. The eyeglasses came to me without lenses. I installed a pair, simply to add stability while trying them on and off. They are prescriptive and show only minute wear but will be of little use to you, if at all.
The prescription is very strong and likely the same John Lennon used to correct his vision. The frames and temples are both in TRUE EXCELLENT CONDITION. Measurements: The frames measure 4 1/2 inches from hinged edge to hinged edge. The rims are 40MM, perfectly round and exactly as John Lennon wore.
The bridge is set at 18mm and can be widened but ONLY BY A PROFESSIONAL, as it requires heat in special places and special, guarded pliers as well. Most goldsmiths can perform the task but best to take them to an optical shop and have them handle it.
I can perform the task... The temple stems are 6.0 inches in total length and will fit most small to medium adult men and women. I've been working with these since 1995, so I know these as well as anyone and work with them daily. I encourage you to check with me first before going somewhere else as I can often save you a chunk of change on parts and I encourage you to keep my contact information on file in case something goes wrong.
Drop one of those tiny screws and they're gone forever... The screws for these are not only difficult to find, they can also be expensive. I do my best to keep a stock of those available for my buyers. I have a slew of repeat customers. Feel absolutely free to inquire within.
I also sell all of the eyeglasses and sunglasses any of The Beatles ever wore. Keep my contact information as I have a very nice stock available on the mega rare White Gold Windsor frames as well. The Metal: The frames are made of 1/10th Yellow Gold Filled.
Gold filled is a very heavy bonding of solid gold. 1/10th, means that the total weight of the gold, used to manufacture these, must weigh at least 10% of the entire weight of the metal.
Many folks have found that these often produce much more gold, when scrapped, than what is reported or stamped on the back of the bridge because the gold was applied by hand, much the same way thread or braid is spooled onto the eyes of a fishing pole. CONDITION MEANS EVERYTHING but I've seen yields of gold over 15%. They are quite old, antique and well over 100 years old, yet still in TRUE EXCELLENT CONDITION.
According to Yoko Ono and Sean Lennon, John Lennon owned over 40 pairs of yellow or white gold wire rimmed eyeglasses. Windsor frames were also made famous and were worn by Teddy Roosevelt, Ernest Hemingway, Joseph Stalin, Winston Churchill, Mahatma Ghandi, Groucho Marks and even David Letterman, Whoopee Goldberg, Sting and Ozzy Osbourne wear these same frames.
For years, folks felt John Lennon was simply trying to make a fashion statement when he first started wearing these late in the year 1966 but the truth is that he "fancied the way the curled, cabled stems wrap around his face" and would not shift or fall off his face as he bounced around playing his guitar. They're highly sought after by both avid Beatles collectors and antique eyeglass dealers, MUSICIANS, motorcycle and horse riders and I love them for fishing and picking weeds in the garden and fishing. When they are as exquisite as these, they can command a much higher value as well.
These eyeglasses have been completely professionally cleaned, polished, then sterilized soaked for several hours in 100% pure, medical grade Isopropyl Alcohol and that's very important with these much older, iconic frames and cleaning and sterilizing the rims is mandatory with me and greatly helps the lenses to fit snug within the bezels of the rims installing new lenses. These arrived to me without lenses in them. The first thing you're going to want to do is try them on. Without lenses, the rims can easily be bent.
I've done my research and I would think you would as well but these are nothing short of ABSOLUTELY GORGEOUS. These frames are more popular than ever. I'm talking about THE REAL THING.
Even those that have John Lennon's name engraved or embossed on them are not authentic and quite inferior. Funny how most of those don't look like anything John Lennon ever wore. That's because he didn't wear them. Yoko Ono did and the majority of them reflect those styles she wore.
I'm happy to present to you, a genuine pair SIGNED WINDSOR eyeglasses, made by American Optical in the United States that are in true, EXCELLENT CONDITION! I do not charge anyone for packing materials at all but they're packed very securely with a concern and preference for reuse and recycling. BE READY FOR A BATTLE!!
The item "BEATLES JOHN LENNON ANTIQUE VINTAGE GENUINE SIGNED WINDSOR EYEGLASSES EXLT COND" is in sale since Thursday, June 18, 2020. This item is in the category "Antiques\Science & Medicine (Pre-1930)\Optical".
The seller is "asylumrockmusic" and is located in Spokane, Washington. This item can be shipped worldwide.
Country/Region of Manufacture: United States
Original/Reproduction: ORIGINAL ( 100% GUARANTEED REAL )
Style: ROUND "STEAMPUNK"
Frame Color: YELLOW GOLD
Decade: CIRCA 1885
Maker: American Optical
Look: STEAMPUNK ( PERFECTLY ROUND )
Temple Length: 6.0 INCHES
FRAME WIDTH: 4 1/2 INCHES
RIM SIZE ( ALSO REFERRED TO AS LENS ): 40MM
SIZE: ADULT MEDIUM TO LARGE ( FRAMES ONLY )
Marks / Stampings: AO logo / WINDSOR / Hallmark (gold content )
Occasion: Everyday
ERA: CIRCA 1885 AND WELL OVER 125 YEARS OLD
Brand: WINDSOR ( True Windsor ) . American Optical
Gender: Adult Unisex
Type: GENUINE WINDSOR EYEGLASS FRAMESS
Frame Material: 1/1OTH - 12K YELLOW GOLD FILLED

---